Appliance Repair Brooksville Florida Cloudy Glassware Solutions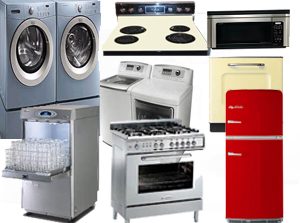 ApplianceQuest Service and Repair Servicing Pasco and Hernando County Florida: Dishwasher repair and troubleshooting tips from the friendly neighborhood appliance repair service.
ApplianceQuest Repairman often addresses concerns with dishwashers not performing satisfactorily. An automatic dishwasher is not worth the space it takes up if it doesn't get dishes sparkling clean.
One of the most common complaints ApplianceQuest Technicians have and often hear are the dishes not coming out as clean as they used to. Glassware comes out with streaks and spots or appears cloudy and doesn't look clean.
When an ApplianceQuest technician arrives he will do an inspection and evaluation of the dishwasher and ask the customer what kind of products they are using in the dishwasher.
As long as the appliance is functioning and going through all the cycles, the problem with glassware coming out cloudy, spotty and streaky is often caused by the detergent.
Several states have banned phosphorous from dish washing detergents because it leaks into water ways, causes algae blooms and kills fish. Phosphorus is the ingredient that prevents things from sticking to glassware; however, the health issue outweighs the aesthetics issue. Water quality experts claim the dishes are safe and clean in spite of their appearance.
Well, that isn't good enough! Modern technology has helped ups over many obstacles in the past, so dish washing companies are scrambling to the first to come up with an effective but environmentally safe product to bring back the shine in glassware.
Until then, people are looking for their own alternatives, like adding lemonade packets to the dish washing detergent or searching for other rinse aides.
Some people are buying commercial grade dish washing products that still contain phosphorous; however, appliance repair technicians advise to check with the manufacturer to make sure your dishwasher can handle these products.
Learn more by watching a video by the investigators who uncovered the source of water spots and streaks left behind by the dishwasher.
NBC-2.com WBBH News for Fort Myers, Cape Coral
Call ApplianceQuest today for all your appliance needs.
888-817-2455
© ApplianceQuest
16640 Bachmann Ave.
Hudson, Fl. 34667
888-817-2455